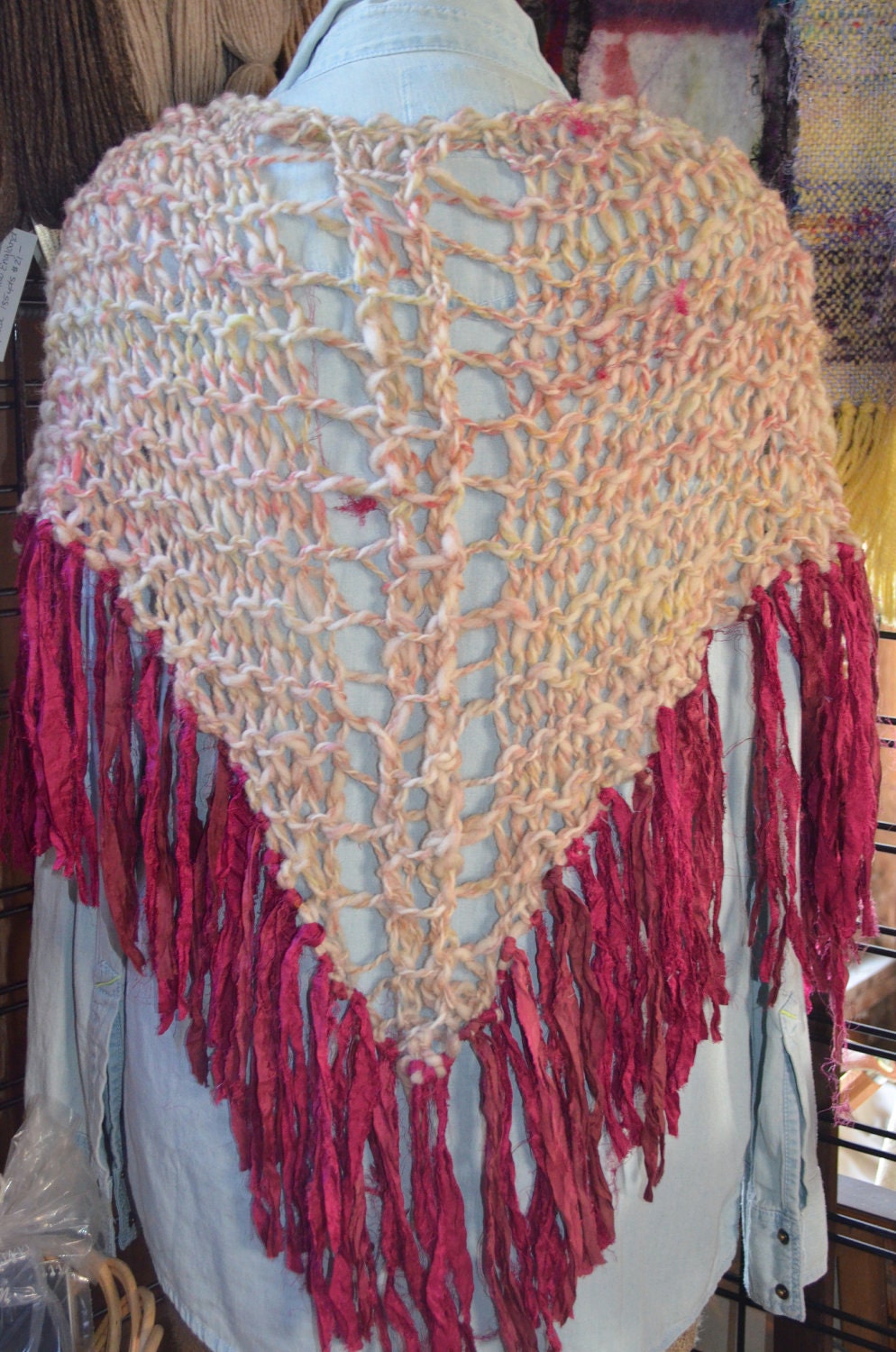 WOW! June 1 will be exactly one year I have owned MadWool! And of course there will be sales and a party! I have been a bad blogger ( but a good facebook-er:)), and my goal is to get more pictures up of finished projects on here and on Ravelry, finish the interviews with fellow fiber artists I have in the works, work on projects, and just do more! So, about the anniversary celebration: It will be here at MadWool of course, all day 6/1/12, from 11- 6 PM. Everything in the shop will be 20% off (no additional discounts on already on sale merchandise, sorry.). There will be fun freebies, food, and two trunk shows! The first is from Pam Blasko, of Dream Come True Farm in Oxford, CT (http://www.etsy.com/shop/pamsfiber?ref=seller_info). Pam spins beautiful art yarns, with fiber from her own farm animals. She also knits great garments and accessories from her yarns.
I love shawls from handspun!
With Pam will be Ashly Ann Bartholomew, of Ashly Ann's Hands (http://www.ashlyannshands.com/index.php?route=common/home). Ashly is also a spinner and knitter, but a fabulous potter too! She will have some super big yarn bowls, perfect for that large skein or funky art yarn.
A funky shawlette handspun and knit by Ashly Ann.
Note that the 20% off does not extend to the trunk shows, just MadWool stock.
Also working on the regular newsletter and class newsletter--there will be lots of classes this summer! I think late Sunday afternoons are good for learning some new techniques, and we will have lots of knitting, spinning, dyeing and weaving for you. If there is a class that you would like to see scheduled, please contact us--happy to help!
More soon! Thank you all for reading the blog, facebook, newsletter, and supporting MadWool in it's first year as a new shop.